HVAC service in Baton Rouge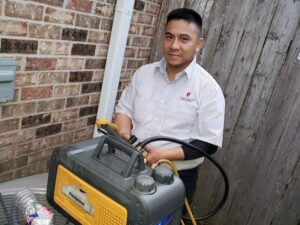 At Central Works HVAC we provide a wide range of HVAC services in Baton Rouge and the surrounding area. Our experienced technicians are highly knowledgeable in the areas of air conditioning repair, ac maintenance and ac installation. As well as furnace repair, furnace maintenance, and furnace installation. We also have a highly qualified team that provides solutions for indoor air quality. No job is too big or too small. Our technicians provide both residential HVAC services and commercial HVAC services.
New Heating and Air Conditioning Installation
If you are in the market for a new air conditioner or furnace our professionals are qualified to help. We can guide you through the process of selecting a heat pump, furnace or air conditioner that will be right for you. We have a wide variety of products to choose from. You may need a gas furnace or prefer a heat pump to traditional furnace and ac unit. Our professionals are here to help.
Ductless Mini Split Installation
Many properties have baseboard heating or no ductwork in them. For these types and other situations, a mini split may be the best fit. When doing a remodel or converting a shed to living space a ductless mini split installation can provide the perfect solution. Our team of professionals will be able to determine if this unit is right for you. There are many advantages to a mini split such as easy installation, energy efficiency and solutions that can work for any space. Call us today for a quote.
Furnace Replacement
If you are constantly needing repairs on your heater, it may be time for a furnace replacement. There are many choices when looking at heaters for your home. You may want to install a gas furnace, increase the size of the furnace, or purchase a more efficient one. Our professionals can work with you to choose the correct size, type, and style of furnace for your home or business.