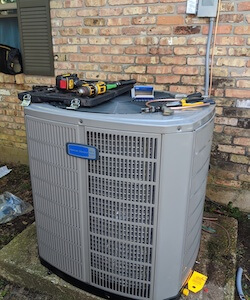 When purchasing a home consumers must learn about their heating and cooling system and how to properly maintain it. If you are purchasing your first home, then the learning curve is slightly higher for maintaining your heating and cooling system. There are many different types of HVAC systems in the Baton Rouge area. Heat pumps do both the heating and cooling with a separate blower fan that distributes the air. Then you have your furnace and air conditioning unit, which is two separate units providing the heat and cool air. Finally, you have ductless mini splits which are popular in smaller properties and additions or sheds. In this guide we will be talking about heat pump maintenance tips for Baton Rouge.
Install a Programmable Thermostat
Take away the burden of constantly having to adjust your interior temperature manually by installing a programmable thermostat. Set it and forget it. The thermostat can be programmed to lower the temperature when no one is at home and even at night for sleep. The home will use less energy this way and help with your power bills. We at Central Works HVAC recommend setting the fan to auto and not to run. While the run function does circulate the air it really doesn't help keep your home warmer in the winter and cooler in the summer. It may even cause strain on your heat pump which then could lead to repairs down the road.
Change Filters Frequently
Running your heat pump with clean filters will increase the life of your unit and prevent any heat pump repairs that may arise. There are different types of filters ranging from inexpensive to reusable types that you can clean. You should change filters in your heat pump before they get clogged with debris and dust. Changing them every six months may be good for some, but others may need to change their filters quarterly depending on the manufacturer's recommendations. Therefore, changing filters frequently helps prevent heat pump repairs or heat pump replacement due to reduced air flow damaging the compressor.
Inspect the Area Around the Heat Pump
Go out to your heat pump and inspect the area around it. Remove any leaves or brush around the base of the unit. Check the coils to make sure they are clean. If dirty, turn off the unit, then hose down and use a cleaner according to manufacturer's directions. In the winter check for snow or ice on the unit. Do not use sharp objects to remove ice from the heat pump. You can find more tips on heat pump maintenance at the official energy.gov
Schedule Heat Pump Maintenance in Baton Rouge
We at Central Works are here to perform heat pump maintenance that is beyond your ability. There are electrical components, refrigerant, belts and motors to name a few that require a professional to service and maintain. By having regular maintenance done will help prevent major repairs down the road. Contact us today if you live in Baton Rouge, and the surrounding areas: Denham Springs, Prairieville, Geismar, Gonzales and Shenandoah.